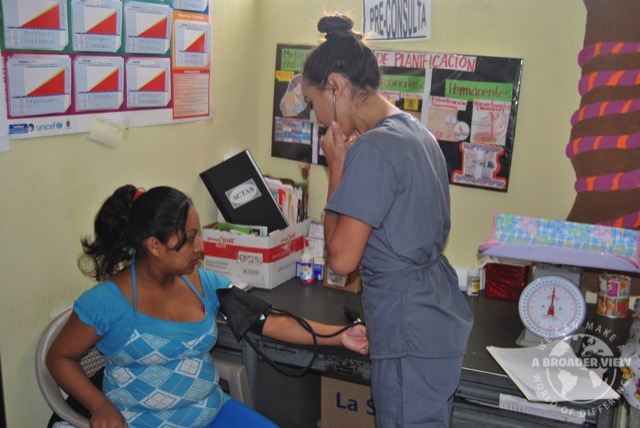 To have an edge on other applicants, aspiring medical students may take the initiative to gain relevant experience and increase cross-cultural competency by volunteering through non-profit organizations on medical missions. Many of the skills I practiced during a medical mission trip through A Broader View Volunteers in Quetzaltenango, Guatemala contributed to my learning experience for the pediatric module during my didactic first year of physician assistant training. I have found that learning can sometimes become solidified retrospectively. In this case, I performed clinical skills before I learned about the theory behind child growth, development, disease processes and the wellness examination.
From a Western medical perspective, vaccinations are an essential part of pediatric wellness but medical theory holds no weight when it conflicts with patient belief. Despite a paper published in The Lancet led by Dr. Andrew Wakefied which suggested that the measles-mumps-rubella (MMR) vaccine might be linked to autism and retracted for insufficient data in the late 90s, the autism idea has been perpetuated by celebrity figures like Jenny McCarthy who supported anti-vaccination in the past. One of the recurring failures of health care worldwide is that people mistrust physicians and other medical personnel, not only because what they prescribe may clash with their personal beliefs, but simply because of communication difficulties, inconsistencies in information, or because they feel that they are being treated poorly. Many expectant parents are worried about the potential consequences of vaccinations, but leaving your child unvaccinated can ultimately lead to worse outcomes that can be fatal.
Mistrust in Western medicine theory and practice, of course, goes beyond borders to Latin America. The eyes cannot see what the mind does not know and to an untrained mind, viruses and bacteria aren't usually the first thought when health problems present. Guatemala is an incredibly superstitious country, especially in rural areas, and supernatural pathologies typical of Mayan culture like "mal de ojo," the evil eye, are prevalent. Mal de ojo occurs when one looks upon another with envy and inflicts harm like fever, cough, diarrhea, and rash; typical symptoms of rotavirus, hepatitis A, and other viral and bacterial diseases. This is partly why many Guatemalan mothers who came to the medical mission site, Puesto de Salud, wrapped their infants in layers of blankets. In Guatemala, blankets serve to keep the infants warm and also to conceal babies from the evil eye. It is important to listen to patient complaints with an open mind and, in this case, incorporate Mayan tradition with modern medicine. The Guatemalan government has made efforts to bring awareness and free vaccinations at sites like Puesto de Salud to the people and as a volunteer, I was able to work alongside Guatemalan doctors, nurses, and students to administer vaccines and educate patients on the well-child examination and family planning.
A Broader View Volunteers is just one non-profit corporation that is a liaison to serving your world-wide community, but it has connections to many different experiences whether preserving sea turtle habitats, offering support to victims of domestic violence,  or working with medical or dental patients piques your interest.  Below is my review of my experience with A Broader View Volunteers.
1- How was the local ABV Coordinator and the support provided in-country?
All of the information and support I received from the ABV coordinator was accurate, concise and very helpful. All of the support provided was great.
2- What was the most surprising thing you experienced?
I knew that the medical system would be different in Guatemala so I came to the program with an open mind. The simplicity of a paper system as opposed to the complexities of  electronic medical records in the US was both surprising and refreshing. Also, the nursing students here had much more autonomy than US students!
3- What was most difficult to experience?

I have family who live in rural areas of the  Philippines, so being in Guatemala felt familiar and reminded me of me experiences in La Union. Being away from the comforts of home was the most difficult. Sometimes I just wanted to eat Taco Bell. It took me a really long time to find one, but I finally did and it was worth it!
4- Any tips for future volunteers… (clothing, travel, personal items, donations)

Don´t bring anything of extreme value whether it be monetary or personal value! Plan on bringing bathing suit if you are going to visit the hot springs!
5.-Other things volunteers should know:

a. Don´t go to the cemetery with valuables in hand! Many thieves prey on unsuspecting victims there! I was attacked knife point by a thief who wanted my cell phone but luckily he ran off when he noticed a funeral procession crossing nearby.
b. Drink bottled water!
c. Souvenirs are less expensive in Xela than Antigua.
d. You can barter prices!
6- How would you describe your accommodation, meals, security (e: host family, on-site, shared)

Great accommodation and meals. Ms. Lilian was a great cook. I was invited to attend posadas, so I was able to get involved with a holiday ritual and meet the neighbors.
7- What was your favorite memory of this trip?

Meeting native Guatemalans, interacting with babies, and cultural outings such as posadas were my favorite memories of the trip. Also, making Christmas cookies was a great memory!
8- How was the ABV USA support prior traveling?
Everything was well-planned and instructions were concise. There was a welcome packet that described exactly how the reception process would be and gave an overview of the homestay family.
As a tax exempt 501(c)(3) non-profit charity organization A Broader View receives 100% of funding from volunteers' program fee donations.
This slideshow requires JavaScript.
Sources:
Baer, R. D., Weller, S. C., Faraco, J. C. G., & Martín, J. F. (2006). Las enfermedades populares en la cultura española actual: un estudio comparado sobre el mal de ojo. Revista de Dialectología y Tradiciones populares, 61(1), 139-156.
Eggertson, L. (2010). Lancet retracts 12-year-old article linking autism to MMR vaccines.
McCarthy, J. (2008). Mother warriors: A nation of parents healing autism against all odds. Penguin.